Handle material
Make handles yourself.
For a truly unique knife, a handmade handle is a special asset. Below are a few examples for inspiration.
On this page we will offer products for the self-production of this type of handles. For the production the following items are essential:
epoxy adhesive (2-components)
Sandpaper (various grits)
Material (wood, buffalo horn, brass, copper, stone, plastic, etc)
Wood grater
Oil or furniture wax
Wood drill
Bench vice with wooden clamps (not to damage your handle)
To make it easier we recommend the use of a fixed sander such as a disc sander or belt sander. Also note good dust extraction as some wood species can produce irritating dust particles during sanding.
There are many techniques for assembling your handle. Many instructional videos can be found on youtube.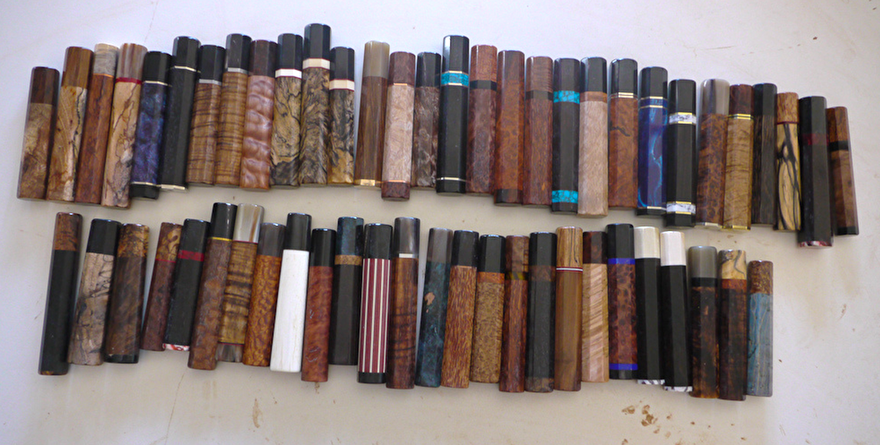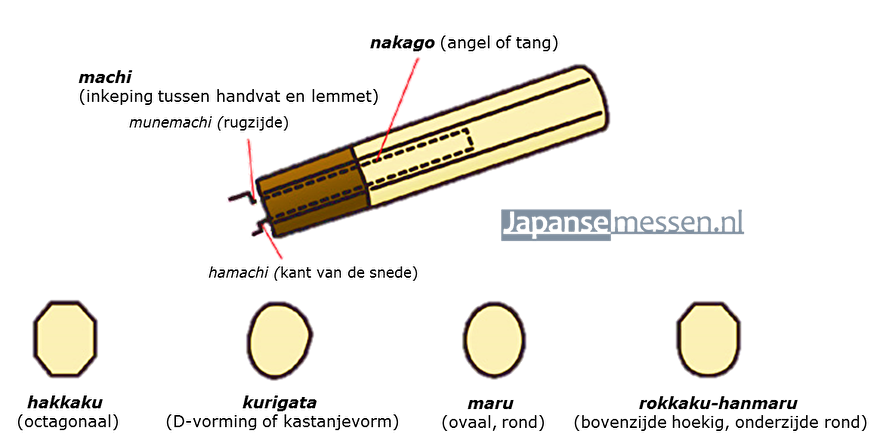 -44%

-35%

-54%

American Walnut (Juglans nigra) - Straight grain-

This beautiful wood comes from the American walnut. With this wood it is possible to manufacture a handle according to your wishes. 1 block contains enough wood for 2 traditional Japanese handles.

Because of the softness of…

€ 14,95 € 6,95

-60%

American Walnut (Juglans nigra) XL - straight -

This beautiful wood comes from the American walnut. With this wood it is possible to manufacture a handle to your liking. 1 block contains enough wood for 2 traditional Japanese handles.

Because walnut is easy to work with…

€ 24,95 € 9,95

-54%

American Maple (Aces Saccharum) - straight grain-

This beautiful hard wood comes from the American Maple (Maple). With this wood it is possible to manufacture a handle according to your wishes. 1 block contains enough wood for 2 traditional Japanese handles.

Light colored…

€ 14,95 € 6,95

-50%

European Oak wood (Slavonian) - straight grain-

European Oak wood (Slavonian) - straight grain-

With this wood it is possible to manufacture your own handle as desired. 1 block contains enough wood for 2 traditional Japanese handles.

Oak (or oak wood) is one of the best known…

€ 9,95 € 4,95

-46%

European Oak wood (Slavonian) - straight grain- XL

With this extra large piece of wood it is possible to manufacture a handle yourself. 1 block contains enough wood for at least 2 traditional Japanese handles.

Oak (or oak wood) is one of the best known types of wood. In general,…

€ 12,95 € 6,95

-25%

Teak (Tectona grandis) - straight -

With this wood it is possible to manufacture a handle as desired. 1 block contains enough wood for 2 traditional Japanese handles.

Teak (Tectona grandis) is one of the best known types of wood. In general, Teak is strong and…

€ 19,95 € 14,95

European Beech (non-steamed)

Beech (Fagus crenata)

Beech or also beech wood is a type of wood, one of the most important hardwood species for industry in the Netherlands and Belgium. It is the wood of the beech (Fagus sylvatica), a common tree species…

€ 6,95

Macassar Ebony (Calamander) Black/brown - straight -

With this wood it is possible to manufacture a handle as desired. 1 block contains enough wood for 2 traditional Japanese handles.

Calamander or coromandel is a valuable wood from India and Sri Lanka (Ceylon). It is a hazel-brown…

€ 22,95

Iroko wood (Milicia excelsa) - straight -

Iroko wood,

Iroko (Milicia excelsa) has a beautiful golden brown to golden brown color and can resemble teak. It is therefore used as a teak substitute. Often beautiful drawings occur in the wood caused by wavy wire.

The wood…

€ 8,95

Rosewood/Palisander (Dalbergia latifolia) - straight -

With this wood it is possible to manufacture a handle as desired. 1 block contains enough wood for 2 traditional Japanese handles.

All genuine rosewoods belong to the genus Dalbergia. This wood has a strong, sweet smell, which…

€ 19,95

Bloodwood/Satinwood (Brosimum rubescens) - straight -

With this wood it is possible to manufacture a handle as desired. 1 block contains enough wood for 2 traditional Japanese handles.

Bloodwood (Brosimum rubescens), also called Muirapiranga (=piranha blood), Cacique, Cardinalwood,…

€ 17,95

-25%

Shisham (North Indian Rosewood) - straight -

With this wood it is possible to manufacture a handle as desired. 1 block contains enough wood for 2 traditional Japanese handles.

Sheesham wood is also known as Indian Rosewood. The official name of sheesham wood is Dalbergia…

€ 19,95 € 14,95

Micarta knife handle scales - orange yellow-

With this special material it is possible to manufacture a handle as desired. This is a set of 2 shell parts of 125x38x8 mm each.

This material can also be used as a head / bolster or as a spacer.

Micarta is pressed linen which…

€ 12,95

-50%

Oak scales (European oak)

With this wood it is possible to make your own handle according to your wishes. By gluing the 2 shell parts to the angel and/or attaching them with, for example, Corby bolts.

Oak is one of the best-known types of wood. In…

€ 9,95 € 4,95

Spacer material, G-10 fiber board

Spacer Material-G-10 fiberglass plate

Special material made of G-10 fiberglass for filling spaces between handle and bolster or for decoration between 2 different types of wood in a handle. Available in 4 different colors. To be…

€ 4,95

-25%

Turpentine oil 100%, 100 ml

Turpentine oil.

Turpentine oil is used when painting with oil paint to thin the paint or for wood treatment to dilute linseed oil or tung oil so that it penetrates deeper into the wood. It is an excellent solvent for linseed oil…

€ 3,95 € 2,95

-20%

Raw Chinese Tung oil (woodoil), 100 ml

Tung oil (wood oil)

Special oil for the maintenance of cutting boards or for the treatment of wooden protective covers and unprocessed handles.

100 ml

The seeds of the Tung tree that are reminiscent of enormous chestnuts…

€ 9,95 € 7,95

New!

Spalted birch wood - wild- grade A+

Beautiful piece of special "spalted" birch from Estonia. With this wood it is possible to manufacture a handle according to your wishes. 1 block contains enough wood for 2 traditional Japanese handles.

Spalted birch is very…

€ 29,95