Pocket knives(Higonokami)
The original Higonokami knives are exclusively manufactured in the Kanekoma forge by Motosuke Nagao (Miki), descending from four generations of blacksmiths. Motosuke Nagao is now quite old and his succession is not guaranteed. There is a danger that the real Higonokami knives will disappear. The "Higo" knives with a Samurai figure on the blade are fine knives but formally no "real" Higonokamis.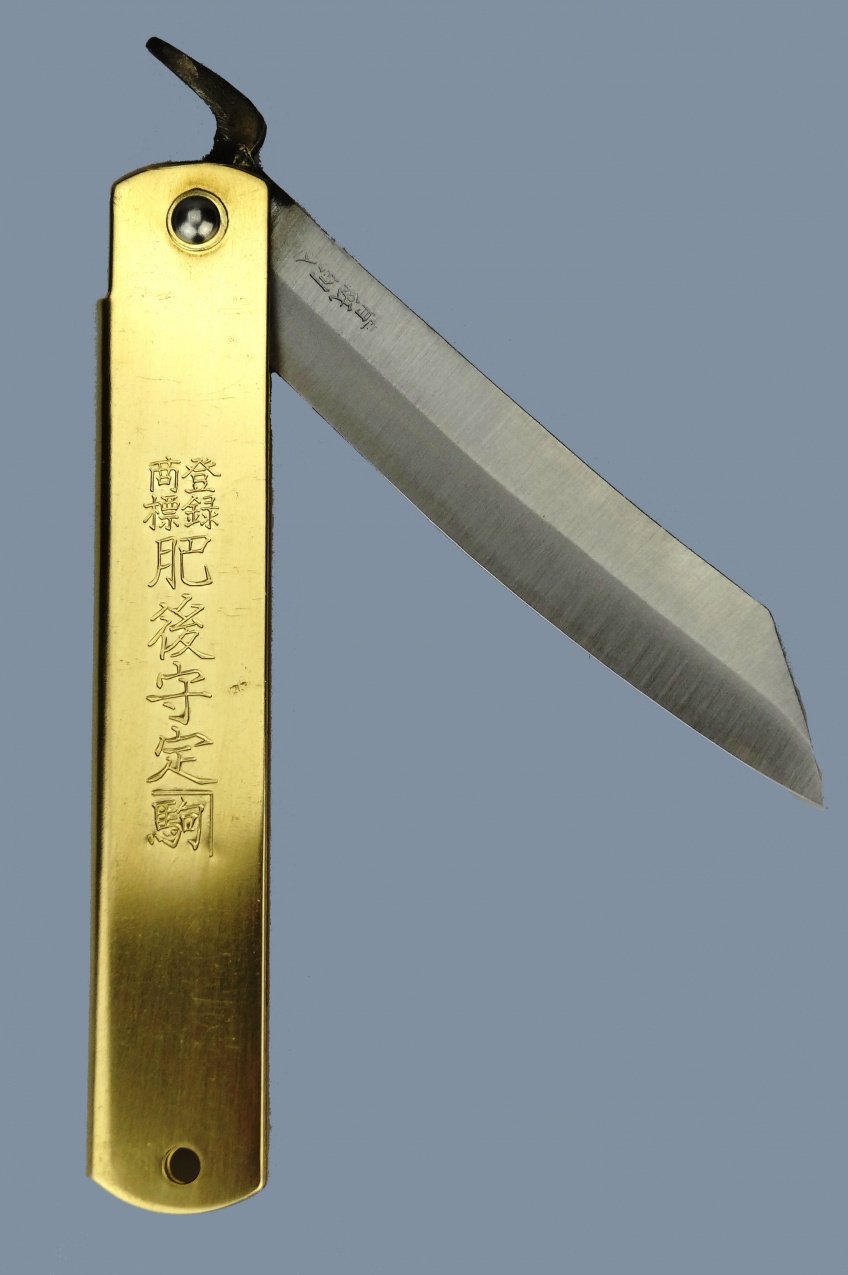 A Higonokami pocket knife was traditionally used for small jobs in and around the house, to peel an apple, to sharpen pencils, during camping trips, etc. Actually it is the "Opinel" of Japan but made of a superior steel type. The blade is slightly curved and is roughly finished at the top. This reinforces the traditional feeling with this knife. The steel is hand-forged and extremely hard (usually Japanese Aogami "Blue paper steel" with a Rockwell hardness of> 62), the cheaper versions are made of S55C or SK steel (60-61 HRc). These very affordable knives are made under great time pressure in only 1 small smithy and are not perfectly finished from the factory, many people choose to finish the knife at home and polish it so that it gets a personal character.
The most famous model is called "Sada Koma" and is available in four sizes small (S), medium (M), large (L) and extra large (EL). This knife has a brass handle like on the photo on the right. Other handles are for example steel, titanium or silver.
These are the characteristics of a Higonokami knife:
A handle made of a folded casing of brass, steel, or titanium, stamped with Japanese Kanji characters that shows the name of the maker and the steel type of the blade.
The presence of a Chikiri (the lever at the end of the blade) The lack of a locking system.
The fact that the blade completely disappears in the handle when the blade is closed. Note that the length of the blade is traditionally measured from the point to the Chikiri (lever).
The actual cutting edge is much shorter (65 mm with a 90 mm blade).
The top four characters say 登録商標 which means "registered trademark", below those is 肥後守 (higonokami). The 定 below that simply means made/customized, and the last character is 駒 (koma) which comes from "Nagao Komataro" ("Nagao" being the family name and "Komataro" the given name), who carried on his Grandfather's work. Around this character is a ᅠᄀ mark called "kane" traditionally used by craftsmen as a sort of trademark symbol. The name "kane" may or may not come from the archaic 矩 (kane) "carpenter's square" which came to be associated with tradesmen.
Here a nice explanation about the origin of these traditional pocket knives.
We only sell the knives in our range to people aged 18 and older. By ordering a knife with us, you declare to be over 18 years old!
-38%

Motosuke Nagao Higonokami S55C Black

Motosuke Nagao Higonokami S55C black

This Japanese Higonokami knife is made of Japanese JIS S55C high-carbon steel (non-rustproof). This double-sided sharpened knife is completely hand-forged by the only master smith who can make…

€ 16,00 € 10,00

-21%

-18%

Motosuke Nagao Higonokami S55C Chrome

Motosuke Nagao Higonokami S55C Chrome

This Japanese Higonokami knife is made of Japanese JIS S55C high-carbon steel (non-rustproof). This double-sided sharpened knife is completely hand-forged by the only master smith who can…

€ 22,00 € 18,00

-11%

-17%

Motosuke Nagao Higonokami SK-5 Black

Motosuke Nagao Higonokami SK-5 Black,

This Japanese Higonokami knife is made of Japanese SK-5 carbon steel (non-stainless). This hard core steel is clamped with a softer steel type for protection. Due to the high hardness of the…

€ 24,00 € 20,00

Motosuke Nagao Higonokami SK-5 Chrome

Motosuke Nagao Higonokami Chrome

This Japanese Higonokami knife is made from Japanese SK-5 carbon steel (non-stainless). This hard core steel is clamped with a softer steel type for protection. Due to the high hardness of the…

€ 26,00

New!

Tijdelijke aanbieding!

Motosuke Nagao Higonokami Aogami Original Brass

Motosuke Nagao Higonokami Original,

This Japanese Higonokami knife has a core of Japanese Aogami # 1 "Blue paper" carbon steel (non-stainless). This double-sided sharpened knife is completely forged by the only master smith who…

€ 59,00 € 29,00

-20%

Motosuke Nagao Higonokami Aogami Mizushibuki Waterdrop

Motosuke Nagao Higonokami with special water drop decoration,

This Japanese Higonokami knife has a core of Japanese Aogami # 1 "Blue paper" carbon steel (non-stainless). This double-sided sharpened knife is completely forged by…

€ 49,00 € 39,00

New!

Motosuke Nagao Higonokami SK Warikomi - mini - no bell

Motosuke Nagao Higonokami mini.

This Japanese Higonokami knife has a core of Japanese Warikomi SK carbon steel (non-stainless). This double-sided sharpened knife is completely hand-forged by the only master blacksmith who is…

€ 22,95 € 15,95

-28%

Motosuke Nagao Higonokami SK Warikomi - mini - with bell

Motosuke Nagao Higonokami mini with bell,

This Japanese Higonokami knife has a core of Japanese SK Warikomi carbon steel (non-stainless). This double-sided sharpened knife is completely forged by hand by the only master smith who…

€ 24,95 € 17,95

-14%

Motosuke Nagao Higonokami Sasaba (Bamboo leaf) Black

Motosuke Nagao Higonokami Sasaba Black, 100 mm

This Japanese Higonokami knife has a core of Japanese Shirogami # 2 steel (non-stainless) with a black painted brass handle. This double-sided sharpened knife is completely forged by…

€ 69,00 € 59,00

-14%

Motosuke Nagao Higonokami Sasaba (Bamboo leaf) Gold

Motosuke Nagao Higonokami Sasaba Brass, 100 mm

This Japanese Higonokami knife has a core of Japanese Shirogami # 2 steel (non-stainless) with a brass handle. This double-sided sharpened knife is completely forged by hand by the…

€ 69,00 € 59,00

-13%

Motosuke Nagao Higonokami Kengata (Sword Shape) Black

Motosuke Nagao Higonokami Kengata Black, 100 mm

This Japanese Higonokami knife has a core of Japanese Shirogami # 2 steel (non-stainless) with a black painted brass handle. This double-sided sharpened knife is completely forged…

€ 79,00 € 69,00

-13%

Motosuke Nagao Higonokami Kengata (Sword shape) Gold

Motosuke Nagao Higonokami Kengata Brass, 100 mm

This Japanese Higonokami knife has a core of Japanese Shirogami # 2 steel (non-stainless) with a brass handle. This double-sided sharpened knife is completely forged by hand by the…

€ 79,00 € 69,00

Last batch!

Motosuke Nagao Omamori Kogatana - sword shape -

Motosuke Nagao Omamori kogatana,

This Japanese kogatana knife has a core of Japanese Aogami # 1 "Blue paper" carbon steel (non-stainless). This double-sided sharpened knife is completely hand-forged by the master blacksmith…

€ 69,00

-13%

Motosuke Nagao Toumaki kogatana

Motosuke Nagao Toumaki kogatana,

This Japanese Toumaki knife has a core of Japanese Aogami #2 "Blue paper" carbon steel (non-rustproof). This double-sided sharpened knife is completely hand-forged by the masters Motosuke Nagao.…

€ 79,00 € 69,00

-13%

Motosuke Nagao Chirimen Kogatana

Motosuke Nagao Chirimen kogatana,

This Japanese Chirimen kogatana knife has a core of Japanese Aogami # 1 "Blue paper" carbon steel (non-stainless). This double-sided sharpened knife is completely hand-forged by the master…

€ 69,00 € 59,95

-31%

Leather Cover (Sleeve) for Higonokami and pocket knives

Handmade protective cover for Higonokami knives and pocket knives.

Protect yourself, your clothes and your valuable knife from damage. A beautiful handmade genuine leather cover/sleeve is the solution. These leather covers from…

€ 12,95 € 8,95