Office knives (Petty)
Office knives are small short knives for peeling vegetables and fruit. cleaning fish, meat and poultry and other small chores in the kitchen. Practical knives (also often referred to as "petty" knives, paring knives or peeling knives) are essentially small chef's knives. Office knives are available from 70 to 180 mm (blade length).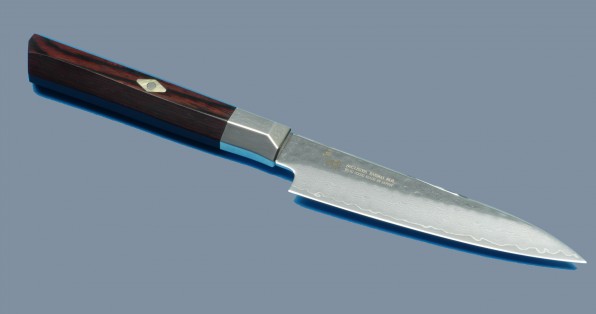 The knives below are sorted by price.
-26%

Kenmizaki Satomi Ajikiri Tsuchime, KZ-104, 110 mm

Kenmizaki Satomi Ajikiri, KZ-104

These Kenmizaki Satomi knives manufactured in Japan have a very good price/quality ratio. The blade of this knife is laminated non-rust resistant Japanese High-Carbon Molybdenum Vanadium steel in…

€ 45,00

Shimomura TU-9008 Petty (paring knife), 125mm

Shimomura TU-9008 Petty

The Shimomura knives are manufactured in Japan. They have a very good price/quality ratio. The blade of this knife is made of rust resistant Japanese Molybdenum Vanadium steel and is equipped with a forged…

€ 45,00

Shimomura Tsunouma TU-9009 Petty (office knife), 150mm

Shimomura TU-9009 Petty

These blades made in Japan from Shimomura have a very good price / quality ratio. The blade of this knife is made of rust-resistant Japanese Molybdenum Vanadium steel and is equipped with a forged…

€ 49,00

-22%

-22%

Ninja Seki Petty (office knife), 130 mm -western handle-

Ninja Seki Petty (office knife),

This short Japanese paring knife has a core of Japanese rust-resistant steel. The double-sided sharpened blade is very thin and manually sharpened and has no thickenings, which makes sharpening…

€ 89,00 € 69,00

-16%

-18%

-25%

-18%

Miki M303 Kigami Petty (office knife), 150 mm

Miki M303 AUS8 Petty knife.

This Japanese office knife is forged from Japanese Kigami carbon steel (non-stainless) with riveted bolster. This double-sided sharpened knife is hand-forged by Miki Hamono's forge. The blade is very…

€ 109,00 € 89,00

-23%

-34%

-27%

-23%

Tosa Kiyokane Aogami Super petty (office knife), 150 mm

Tosa Kiyokane petty, 150 cm

This Japanese petty knife has a core of Japanese Aogami Super carbon steel with a protective layer (Sanmai) on the outside. This double-sided sharpened knife has a black (Kurochi) protective layer.…

€ 129,00 € 99,00

Tosa Matsunaga Aogami damascus petty (office knife), 120 mm

Tosa Matsunaga petty, 105 mm

This Japanese office knife has a core of Japanese Aogami carbon steel with a damascus (multi-layer) protective layer on the outside. This double-sided sharpened knife is completely hand-forged by the…

€ 109,00

-14%

-16%

-13%

Fujiwara san Nashiji Petty (office knife), 150 mm

Fujiwara san Nashiji Petty,

Hand-beaten blade of stainless steel with the core of extremely hard Japanese Shirogami # 1 White steel. This knife is completely hand forged by Teruyasu Fujiwara and is unique in its kind, the blade…

€ 139,00

NIEUW!

-22%

Kamo VG-10 Suminagashi Petty (office knife), 150 mm

Kamo VG-10 Suminagashi paring knife, 150 mm

This Japanese knife has a core of Japanese VG-10 stainless steel with a softer stainless steel protective layer on the outside with a beautiful damascus pattern. This way of forging is…

€ 179,00 € 139,00

Black horn collar

White horn collar

Nieuw!

Shigeki Tanaka VG-10 damascus petty (office knife), 150 mm

Shigeki Tanaka Petty,

This Japanese paring knife has a core of Japanese VG-10 stainless carbon steel with a beautiful damask (pattern forged) protective layer. This double-sided sharpened knife is completely hand-forged by master…

€ 179,00

ZDP-189

-8%