Specials Traditional
Traditional Japanese knives or Hōchō have been in use in Japan for over a thousand years. The basic knives are the Deba, the Usuba and the Yanagiba but there are many versions and sizes available.
There are 2 forging techniques to be found in traditional Japanese kitchen knives, namely honyaki and kasumi.
Honyaki are forged knives from one type of steel usually Aogami or Shirogami steel. Kasumi knives are laminated knives where a hard carbon steel core layer the so-called Hagane (Aogami or Shirogami steel) is wedged by a softer outer layer (Jigane) of iron with low carbon content. If this Jigane outer layer is made of one type of material, these knives are called Hongasumi. If the Jigane is laminated it is also called "Damascus".
In principle, traditional Japanese knives are single-sided, making them suitable only for right-handed use. Traditional knives for left-handed use can be ordered but the delivery time can be several weeks to months.
In addition to the aforementioned Deba, the Usuba and the Yanagiba, there are many other types:
Maguro bōchō: very long knife to cut tuna
Nakiri bocho: double-sided cut vegetable knife
Santoku: multifunctional knife
Sashimi bocho: sashimi knife
Soba kiri: Knife to cut soba (そ ば) (very thin strings of buckwheat flour noodles)
Udon kiri: knife to cut udon (some thicker noodles)
Unagisaki hocho: Japanese eel knife (eel)
Tako biki: actually a yanagiba with a straight point
Gyuto (牛刀): the Japanese version of the French chef's knife, both single-sided and double-sided
Funayuki: small single-sided sharpened multi-purpose knife that holds the middle between a Gyuto and a deba.
Kama-Usuba: a Usuba with a sloping point.
One of the very special new knives in the range are the sashimi knives from Keijiro Doi, this world-famous knife maker was born in 1927 and is considered by many to be one of the best knife makers of the moment.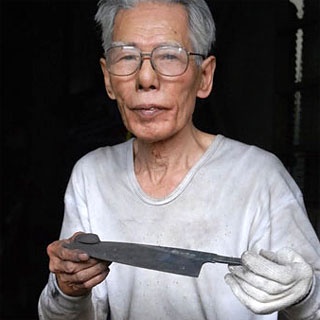 Shimomura Sobakiri (Japanese soba knife), 215 mm

Japanese Soba cutter (Sobakiri),

Japanese style soba cutter of Japanese stainless steel. This knife is intended for cutting Japanese buckwheat noodles (Soba). The blade is very thin and manually sharpened and has no thickenings…

€ 49,00

-13%

Sakai Shigekatsu Yanagiba (Fish knife), 270 mm

Sakai Shigekatsu Yanagiba

This beautiful Japanese fish knife has a classic single-sided sharpened blade. The knife has a core of Japanese SK carbon steel and a traditional handle of Honoki wood. This knife is completely forged by…

€ 159,00 € 139,00

Lefty!

-16%

Sakai Shigekatsu Yanagiba (fish knife), 300 mm

Sakai Shigekatsu Yanagiba

This beautiful Japanese fish knife has a classic single-sided cut blade. The knife has a core of Japanese SK carbon steel and has a traditional handle of Honoki wood. This knife is completely hand-forged…

€ 189,00 € 159,00