Cutting Boards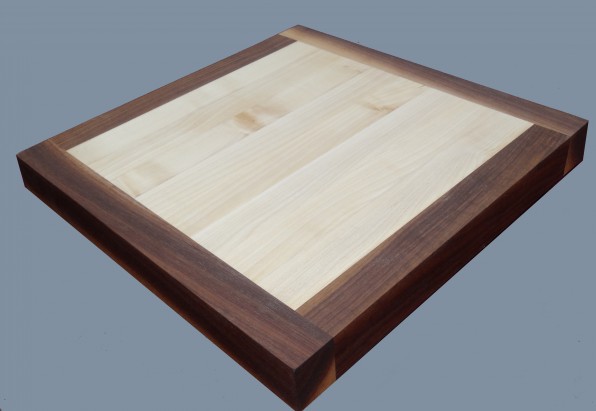 Most cutting boards from Japansemessen.nl are uniquely designed and produced in Japan or by our regular Dutch woodworker. The shelves are suitable for both Western and Japanese cuisine. The real Japanese Sushi boards are generally somewhat larger and longer than regular cutting boards, which makes working with fish easier.
The cutting boards are made of relatively hard woods with a strong anti-bacterial effect. The high hardness of the woods used (Mahogany, Jatoba, etc) ensures that the extremely sharp Japanese knives do not get stuck in the wood. The boards are therefore ideal for cutting with Japanese knives.
We also have a collection of cutting boards and sushi board from the wood of the European olive tree, this wood has a very nice drawing and a fresh scent of olive oil.3sushiboards.jpg
Here you can learn more about the anti-bacterial effect of wood and why a wooden cutting board is best for your kitchen (both for hygiene and for the knives).
Wood, plastic or glass?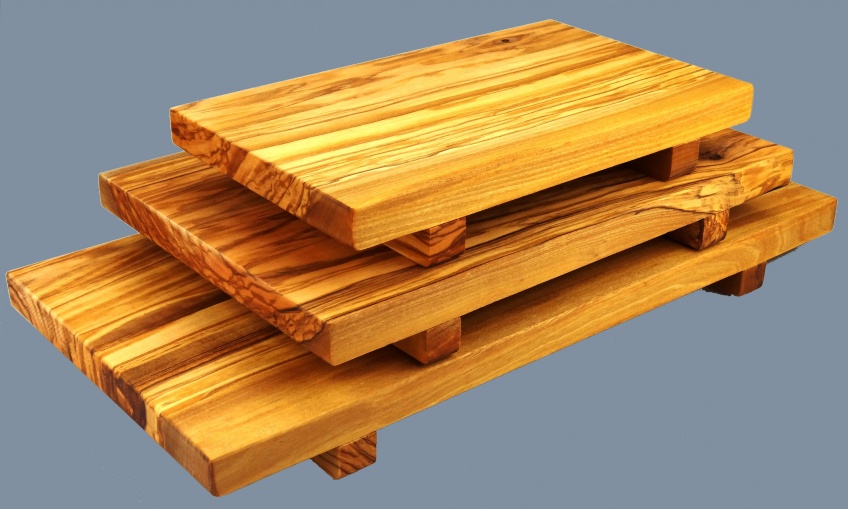 For starters, glass is disastrous for any knife, NEVER use if you don't want your knife to be dull after 1 day, stone, marble, steel or other very hard materials are absolutely not suitable as a cutting board. Of course these materials last a long time, but wood is hygienic and wood and plastic are generally a bit softer and are therefore much better for your precious knife set.
Plastic generally lasts a bit longer than wood, is very affordable and easy to keep clean. Wood is more beautiful and is also very hygienic but needs a little more care (put it in the oil every year) but in terms of daily use, it does not matter which material you choose.
-17%

Chopping board end grain(Rubberwood) GN 1/2

Beautiful cutting board of durable Rubberwood

Material: End grain rubberwood
Brand: Hendi 506912
Dimensions: 265x325x45 mm (GN 1/2)
With rounded corners and milled handles
Can be used on both sides
Not suitable for dishwashers.…

€ 35,00 € 29,00

-29%

Cutting board Bamboo 33 x 25 cm

Beautiful cutting board made of sustainable bamboo

∙ Material: Bamboo glued in length
∙ Brand: Hendi 506943
∙ Size: 330 x 250 x 40 mm
∙ With rounded corners and milled handles
∙ Can be used on both sides
∙ Not…

€ 34,95 € 24,95

-35%

Cutting board HACCP plastic- HDPE - H 1.3 X 30 X 45.5 CM -

Professional cutting board made of HDPE

Made from HDPE 500 plastic. Meets the HACCP standard. Can be cleaned in professional dishwashers (short program). HACCP color coding.

∙ Material: HDPE plastic
∙ Brand: Hendi -…

€ 19,95 € 12,95

-28%

Grapeseed oil, 100 ml

Grape seed oil,

Special oil for the maintenance of cutting boards or for the treatment of wooden protective covers and unprocessed handles.

This is refined oil and therefore extra pure, the grape seed oil found in the…

€ 17,95 € 12,95

-17%

Raw Chinese Tung oil /Turpentine oil 50%/50%

Mixture of 50% Tung oil with 50% turpentine oil.

Special oil for the maintenance of cutting boards or for treating wooden protective covers and knife handles. Because the tung oil is dissolved in the turpentine oil, the oil…

€ 5,95 € 4,95

-25%

Turpentine oil 100%, 100 ml

Turpentine oil.

Turpentine oil is used when painting with oil paint to thin the paint or for wood treatment to dilute linseed oil or tung oil so that it penetrates deeper into the wood. It is an excellent solvent for linseed oil…

€ 3,95 € 2,95

-20%

Raw Chinese Tung oil (woodoil), 100 ml

Tung oil (wood oil)

Special oil for the maintenance of cutting boards or for the treatment of wooden protective covers and unprocessed handles.

100 ml

The seeds of the Tung tree that are reminiscent of enormous chestnuts…

€ 9,95 € 7,95

new!

Japanese cutting board Hasegawa FRK20

Professional cutting board from Hasegawa. Our choice to best protect the edge of your Japanese knife!

∙ Material: laminated wood with soft plastic outer layer to protect the kitchen knives
∙ Brand: Hasegawa
∙ Dimensions: 2…

€ 119,00 € 89,00

-25%

Japanese cutting board Hasegawa FSR20 (Professional grade)

Professional cutting board from Hasegawa. Our choice to best protect the edge of your Japanese knife!

∙ Material: laminated wood with soft light yellow plastic (PolyButadiene) outer layer to protect the kitchen knives
∙…

€ 199,00 € 149,00

-40%

New!

Hasegawa cutting board scraper

Cutting Board Scraperfor most types of plastic boards∙ Made in japan
∙ Cutting Board Scraper / Polyethylene Foam CBS - 115P / t30 x 115 x 50

Hasegawa's is proud of its outstanding scraping power. It erases tough spots,…

€ 14,95 € 9,90