-50%

Kagemitsu herringbone tweezers

Handy and affordable tweezers for the removal of bones from fillets. Extremely suitable for preparing Sushi and Sashimi.

Brand: Kagemitsu
Material: 420 stainless steel
Size: 115 mm x 10 mm

Made in China

€ 3,99 € 1,99

-38%

Stainless steel sushi tweezers with round tip 21cm

Tweezers for the preparation of Sushi and Sashimi. Also suitable for making up garnish.

∙ Brand: Hendi
∙ Material: stainless steel 18/0
∙ Size: 21 cm
∙ Suitable for dishwashers
∙ Made in Poland

€ 7,99 € 4,99

Silky MCUSTA Japanese fruit scissors OS-185

Silky MCUSTA OS-185,

These Japanese fruit scissors from MCUSTA are scissors for peeling oranges and other citrus fruits. The scissors are made of maintenance-free high quality rust-resistant steel with sturdy heat-resistant (up…

€ 19,95

-20%

-33%

Kagemitsu professional Fish bone tweezers

Professional tweezers for removing bones from fillets. Ideally suited for preparing Sushi and Sashimi.

Brand: Galloway
Material: 18-0 stainless steel
Size: 120mm x 11mm
Handmade

€ 8,99 € 5,99

-30%

Kagemitsu professional Fish bone tweezers - Black -

Professional tweezers for removing bones from fillets. Ideally suited for preparing Sushi and Sashimi.

Brand: Galloway
Material: Japanese 18-0 stainless steel
Size: 120mm x 11mm
Handmade
with black finish

€ 9,99 € 6,99

-23%

Kagemitsu professional Fish bone tweezers - straight 30 cm -

Professional tweezers for removing bones from fillets. Ideally suited for preparing Sushi and Sashimi.

Brand: Galloway
Material: 18-0 stainless steel
Size: 300mm x 13mm
Extra long tweezers for professional use
Handmade
Dishwasher…

€ 12,99 € 9,99

-38%

Kagemitsu deluxe professional herringbone tweezers

Professional tweezers for removing bones from fillets. Extremely suitable for preparing Sushi and Sashimi.

Brand: Galloway
Material: 18-0 stainless steel
Dimension: 130mm x 11mm
Handmade

€ 12,99 € 7,99
Japanese scissors and tweezers
Japanese scissors
Kitchen and household scissors are practical tools in the kitchen. It is strongly recommended to cut bones with bone scissors, these are specially designed for this purpose. Most scissors are absolutely not meant for this and you easily damage the blade.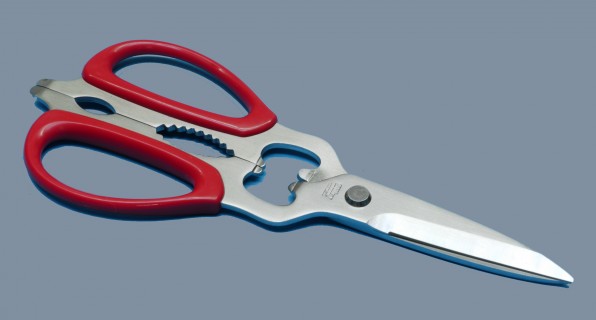 Japansemessen.nl proudly presents the Japanese kitchen scissors from Silky MCUSTA, these professional scissors shouldn't be missing in the professional or amateur kitchen. Among others, the crab scissors are unique and is extremely useful tool for serving crab. Fish restaurants can not miss these scissors!
Also the scissors with the special Nevanon coating are very special, because tape doesn't adhere to this coating. With these shears it is very easy to cut tape without the glue residue adhesing to your scissors.
Tweezers
Fishbone tweezers are very useful for preparing fish.