Protective covers
For transport and cleanup there are the sayas, wooden- or plastic protective covers in which your knife can be stored safely. Our wooden sayas are handmade in Japan of magnolia wood and of absolute top quality. The sayas are equipped with a wooden peg through which the knives stay stuck in the sayas.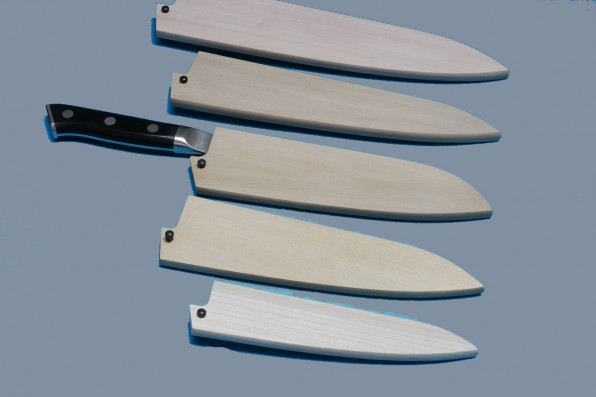 If you are looking for a saya for a knife that you already have in your possession, you can indicate the sizes so that we can choose a suitable saya for you. for this we need the thickness, length and height of the knife. Especially the thickness must be indicated on the 1/10 mm.

It's also possible to get your saya engraved with your name or personal text.
We have a selection of universal sayas and sayas for the different types of MCUSTA Zanmai knives. Click below for an overview of the available sayas.
The plastic saya are universal and are suitable for Japanese and Western knives. The sayas are made of hard plastic with a soft protective layer so that your precious knives can not be damaged.
-28%

Grapeseed oil, 100 ml

Grape seed oil,

Special oil for the maintenance of cutting boards or for the treatment of wooden protective covers and unprocessed handles.

This is refined oil and therefore extra pure, the grape seed oil found in the…

€ 17,95 € 12,95

Wooden giftbox (Acacia wood)

This beautiful wooden box made of Acacia wood is a perfect gift box for knives with a size up to 21cm.

If you include this box with the order, we will put the ordered knife in this box unless you indicate that you want to receive…

€ 15,00