No results found. Try using different filters.
SK-5
SK-5 is the Japanese equivalent of the American 1080 steel. The steel contains a high concentration of carbon (between 0.75% -0.85%) and 0.60% -0.90% manganese. The steel can be hardened to HRc 65 but at this hardness the steel is too brittle for kitchen knives. Mcusta hardens the steel to HRc 60.
SK-5 steel is widely used for chisels and other hand implements. The steel is known for its ideal balance between hardness and long tool life (the knife stays sharp for a long time).
Offers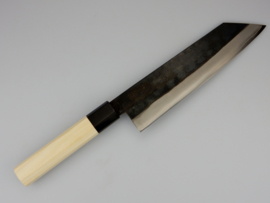 Kagemitsu ZDP-189 bunka (universal knife), octagonaal handvat
€ 289,00
€ 239,00
Guestbook
21-03-2020

- My knives were packed well and arrived safe. The Matsunagas... 

read more

24-02-2020

- Very fast dispatch, made a mistake while ordering and the... 

read more

18-12-2019

- Fast shipping, very nice quality knife. I will order again!... 

read more
New message