No results found. Try using different filters.
Sakai-Tohji
堺刀司
In the city Sakai many traditional Japanese knives are produced. In addition to traditional knives, there are also a number of small forges which are producing more modern knives. Sakai-Tohji is one of them. They make very special knives that are mainly intended for the Japanese and American market. These unique knives are not available in Europe and we are happy to offer this brand in Europe now.
The Tsukasa (ツ カ サ) knives with the high-gloss polished handles are very popular in Japan. The santoku version of this knife is one of the best-selling models in Japan.
Offers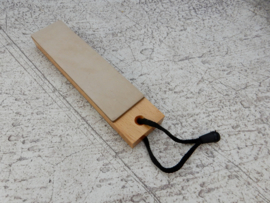 Stropping wood - Saddle Leather - mini
€ 19,95
€ 12,95
Guestbook
01-06-2020

- I bought a knife that unfortunately arrived chipped, but they... 

read more

14-04-2020

- Hello all,

the shop is nice has very good knives and... 

read more

21-03-2020

- My knives were packed well and arrived safe. The Matsunagas... 

read more
New message