No results found. Try using different filters.
Takeo Murata (Tosa)
"Hand-forged black Samurai swords for the kitchen"
Takeo Murata (1949) was born in Susaki and is a smith from the Japanese island of Shikoku near Kochi. He belongs to the top of the Japanese knife makers. When he was only 16 years his famous uncle Tokaiji taught him how to forge.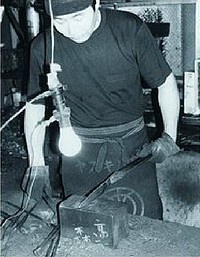 The Tokaiji family is known for the very special Samurais that they still produce. At the age of 32 he started his smithy. He only worked with a 40-watt incandescent lamp, so it was very important to be able to see from the color of the forged blade whether the right temperature was achieved, this forging technique, which is based on what you see, has Murata-san perfected.
| | | | | | |
| --- | --- | --- | --- | --- | --- |
| Carbon | Cr | Ni | Mo | V | Tungsten |
| 1.15 % | 0.4% | --- | --- | --- | 1.0 to 1.5 % |
The blades of Murata-san are known for the high quality and he only uses the exellent Aogami #1 (Blue paper steel). He hardens the knives to a Rockwell hardness of 64 (HRc) but they are still fine to grind yourself. Because of the tungsten in the blade, these knives are extremely durable and can be sharpened very sharp without becoming brittle.
The knives have a beautiful black kurouchi finish that is created during the forging process. This oxidation layer is also an extra protection against oxidation. The Buho series is equipped with western style handles of black pakka wood and is made in the kuro-uchi style. This special knife series has the appearance of a rustic medieval samurai sword but has a very high modern finish and is finished with a razor sharp edge.