Yasuhisasaku (Traditioneel)
The traditional line of MCUSTA consists of 2 series, the exclusive Shiro-cold series and the affordable SK-cold series. They are equipped with single-sided cut blades and a Japanese magnolia wooden handle.
The Shiro-ko series has a bolster make out of real water buffalo horn. The blade is made of the famous "Hitachi Shirogami # 1 White steel" with a hardness of 62-64 HRc.
The SK-ko series has a black plastic bolster and is made of SK-5 carbon steel. SK-5 is the Japanese equivalent of the American 1080 steel. The steel contains a high concentration of carbon (between 0.75% - 0.85%) and 0.60% - 0.90% manganese. The steel can be hardened to HRc 65 but at this hardness the steel is very brittle for use in kitchen knives. Mcusta has hardened the steel to HRc 60. SK-5 steel is widely used for chisels and other hand implements. The steel is known for its ideal balance between hardness and long tool life (the knife stays sharp for a long time).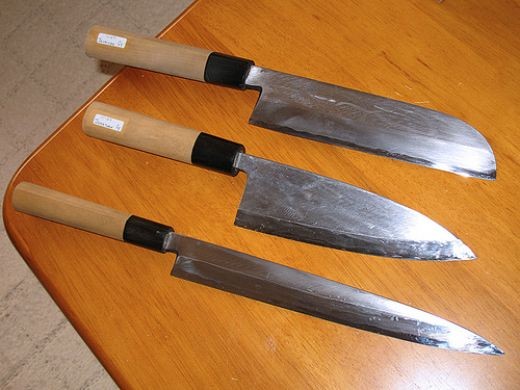 In both the series 3 different types of knives are available: Kama-usuba for vegetables and herbs, the Deba for preparing whole fish and the Yanagiba for fish. The 3 blades that are shown on the right. In the traditional Japanese kitchen, these are essentially the 3 knives that are used.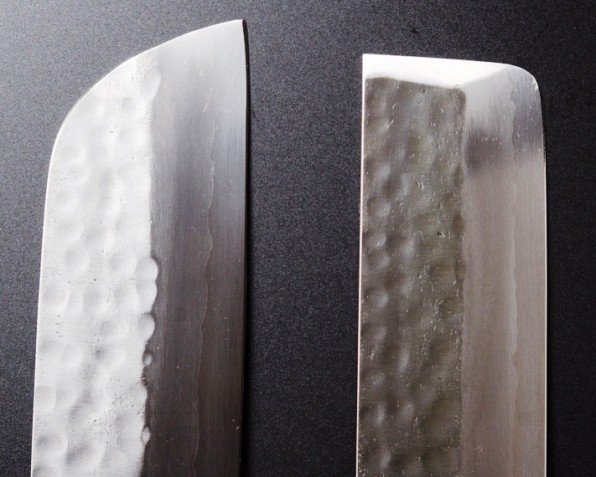 A Kama-Usuba differs from a regular Usuba. A Usuba has a right cut point (like the knife on the right), a Kama-Usuba (left) has a round cut point and therefore has a thighter point. The disadvantage of this point is that it is more sensitive, because the steel is very thinly ground there. A Usuba is somewhat more robust but has the disadvantage that it is less stable and can sometimes feel a bit top heavy. The choice between a Usuba and a Kama-Usuba is therefore primarily a personal one. If you are looking for a vegetable knife that is cut on both sides, then you can choose a Nakiri, both with traditional handles and with a more western handle. A Wa-Santoku like the Tadafusa S-41 is a good alternative for the Kama-Usuba if you're looking for a 2-sided knife.
Offers
Brieto-PRO M1204 Gyuto (Chef's knife) 240 mm
€ 239,00
€ 179,00
Guestbook
21-03-2020

- My knives were packed well and arrived safe. The Matsunagas... 

read more

24-02-2020

- Very fast dispatch, made a mistake while ordering and the... 

read more

18-12-2019

- Fast shipping, very nice quality knife. I will order again!... 

read more
New message