No results found. Try using different filters.
Shinsakuto
After years of experience, we have been able to develop several ultimate knife series, suitable for both the amateur, as the professional chef. Because we have made some of the handles, like the Shinsakuto's ones, a bit bigger, they're more suited for larger European hands.
De Shinsakuto knives are specially made for us in very small quantities and are very exclusive.
Shinsakuto Kakugo Serie:
The Shinsakuto Kakugo series is a very affordable series of Japanese knives with a particularly good price / quality ratio. The Nobunaga knives have a very nice folding pattern in the laminated (Kasumi) blade with VG-10 steel in the core.
The handle is made of beautiful black Micarta (pressed and impregnated linen). This material is known for its extremely good stability and moisture resistance. The risk of shrinkage is extremely small with this material. This material is also used at the top knives of Akifusa and Hattori (which starts at 500 euro).
Offers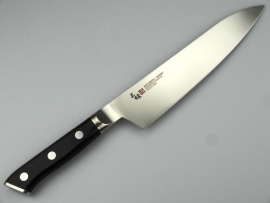 Zanmai Classic 8A HKB-3004m Gyuto (chefs knife), 180 mm
€ 143,00
€ 115,00
Guestbook
01-06-2020

- I bought a knife that unfortunately arrived chipped, but they... 

read more

14-04-2020

- Hello all,

the shop is nice has very good knives and... 

read more

21-03-2020

- My knives were packed well and arrived safe. The Matsunagas... 

read more
New message